Weekly Screenshot Theme Contest - #5
27-03-2013, 07:36 PM |
Post: #1
EA_AtomicDawg
WEEKLY SCREENSHOT-CONTEST


Listen Up Heroes!

Often, the time goes by on the battlefield very quickly. Pictures you've taken along the way can preserve memories you will treasure forever. Your first battle, joining a clan, exploring new places and much more. Before you know it, you may have collected piles of photos!
---
So, to help make all those great memories fresh again, we bring you the weekly screenshot contest!
Every Wednesday we give you a specific theme, to which you can post your proper screenshots* in this thread. We will pick 10 entrys and start a poll the following wednesday, where the 3 winners will be chosen, and each of the 3 winners will receive a special reward! We will also announce a new theme for the following week.
The theme for this week is
"Easter Attack!"
Good luck!
* 1 screenshot / user, first entry counts
You can see last week's winner's HERE
---
27-03-2013, 08:52 PM |
Post: #2
JustBelgian1
Easter Attack, I'm interested to the screenies
I'm back in again!
Edit: 1st
My screenie:
---
Back from holidays
27-03-2013, 08:56 PM |
Post: #3
PipAntarctic
Easter bunny (Bunny Darko) captures the flag! Wait, is that a greande?
Now, this contest is my tradition from now. I will try to post EVERY week.
---
27-03-2013, 08:57 PM |
Post: #4
HammyTheBunny
Bunnies are cute, but don't always expect them to hop around. They got some work to do..
---
---
I would like to thank;
Dr.Zooka
Tomism (Also known as
$lender
)
And ofcourse the one who has helped me make this
Dellicopter
---
I would also like to mention how this was made, This picture was captured under the bridge connecting royals and nationals, Seaside Skirmish. The white Smoke is the Festive Flare for Royals and the quality is High so it looks just perfect, If I could Edit I would make it a bit more sharp at the guns :/
---
27-03-2013, 08:57 PM |
Post: #5
KingBockwurst
Easter Attack!
---


---------------------------------------------------------------------|Youtube-Channel|-----------------------------------------------------------------------
27-03-2013, 09:06 PM |
Post: #6
Pegasus~
---
27-03-2013, 09:28 PM |
Post: #7
PAKOSISSBACK
joker!!!!!!!
(the recor is 15 eggs
) probably the Easter rabbit love us !
screen1303.jpg
(Size: 71.5 KB / Downloads: 158)
27-03-2013, 10:03 PM |
Post: #8
girlfromNorway
---
27-03-2013, 10:11 PM |
Post: #9
pwnduare
EA-STER ATTACK
EA-
---
27-03-2013, 10:12 PM |
Post: #10
AlmostSanji
It's the wrong season and that isn't the hidden egg, dude.
27-03-2013, 10:17 PM |
Post: #11
gummybahr
Behind each cloud of smoke an evil Bunny will rise!
EDIT: Can someone guess in what map this picture is taken
---
27-03-2013, 10:38 PM |
Post: #12
MCBA
---
28-03-2013, 12:45 AM |
Post: #15
AlbaSnipe
"Easter Attack!" ..Me
YOU mad
.
28-03-2013, 02:53 AM |
Post: #16
ZackTennyson
This is mine.....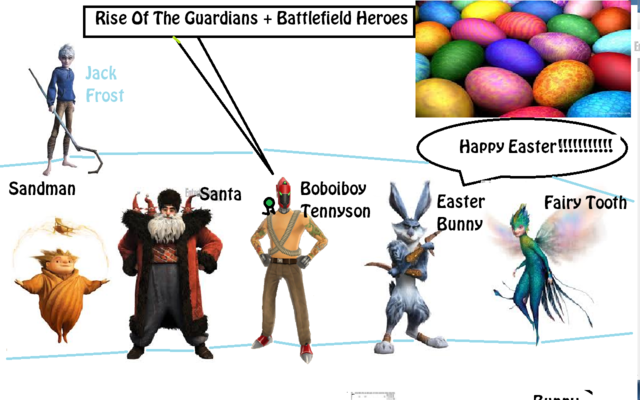 ---
28-03-2013, 07:28 AM |
Post: #17
FoxWatch
Tending the Egg
---
---