[Other] -Like Feature for Posts-
27-06-2012, 06:35 AM |
Post: #1
FancySniper
This is a very simple and straight forward idea that I think can help the forums.
What I am suggesting is an option to "Like" a post.
Example (Bottom Right Corner):
Have you ever seen a witty remark, or logical answer to an important question? But to show your appreciation, you have to clutter up the forum by posting a simple:
+1
A like feature would solve way more problems than that however.
---
Let me show you how it would work.
---
You see a good post, so you like it by clicking the icon.
Then it will register as a like and will show up as (+11). Simple and easy.
---
But it doesn't solve just that. There are many good suggestions out here on the forums, and not everyone who reads the suggestion actually /signs. The "Like" feature would ensure everyone who agrees with the suggestion would be counted, as long as they hit the button.
---
For the author of the post, there would be special features to make suggestions and other things easier, such as the ability to see who liked your post.

---
---
However, there should be an option to turn off the friend list icon to make the names easier to copy, for sign lists.
---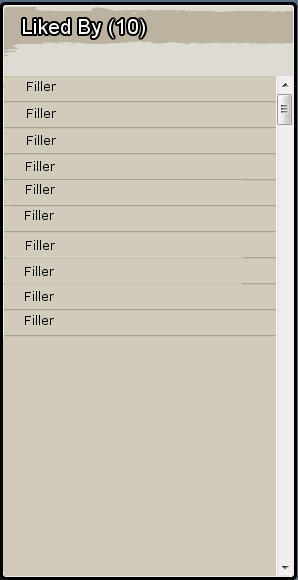 ---
In addition, If a suggestion has over 200 likes, it would become a hot post, hence the crimson red color.
---
---
There is no Dislike button however. That's a whole different suggestion.
You can only like a post once per account.
Yes I know there are is already a suggestion for this. And I have gotten permission from the author of that suggestion to make my own.
27-06-2012, 06:36 AM |
Post: #2
FancySniper
---
Q:
Why no dislike?
A:
People could abuse it, I see no need for it.
Q:
You ripped off Facebook!
A:
A bit. But with that logic the LoL forums did too.
More Questions will be added as people ask them.
---
Richy_Greenback
Tpangolin
Kydonivich
SpenserRyan
benjibenji100
---
Notice: I may not be able to update the list at certain times
Another Notice: I would like to have a signature for this. PM me for details.
04-07-2012, 04:28 AM |
Post: #6
Richy_Greenback
/sign
I'm glad you redid my idea
04-07-2012, 05:31 AM |
Post: #7
TPangolin
Well done. I'm pretty sure you shouldn't see the counter of likes however. It'd be better if it were a vague ranking system (as in Unhelpful to Awesome) based off of number of likes. Also not sure about the crimson red idea, I'm pretty sure you could just substitute a little symbol for that.

Anyway, I'll sign this

Regards,
TPangolin
---
If you encounter a poor, wild and naked Salvenius, please lend him some pants.
I make Civ V mods now, check it out!
05-07-2012, 12:43 AM |
Post: #8
Kydonovich
Yeah Whatev,,,,sounds ok...
---
05-07-2012, 06:13 AM |
Post: #9
ikbenjonas
/sign
a bit FB-styled but i "like it"
---
05-07-2012, 10:20 AM |
Post: #10
WilliamIsBack
I don`t see the need for a "like" button. As this is no social media network there is no need for it.
---
06-07-2012, 12:29 AM |
Post: #12
FancySniper
(05-07-2012 10:20 AM)

WilliamIsBack Wrote: I don`t see the need for a "like" button. As this is no social media network there is no need for it.
True this isn't a social media network, but it can be useful in many other ways, such as keeping track of /signs on a suggestion post.
---
06-07-2012, 03:35 PM |
Post: #14
benjibenji100
/sign
i was thinking of posting this but then i found this post
great idea
---
Xfire:bkagamer Steam:benjibenji100
25-12-2012, 11:21 PM |
Post: #15
Sebastian0100000
/sign, really want to like all of the Harlinger's posts
---
26-12-2012, 11:22 PM |
Post: #16
E-Boyz
/sign If there was a way, I'd like this page 19482397548302759032 times!
---
28-12-2012, 11:33 PM |
Post: #18
Guus~
Not bad.
/sign for sure.
---
29-12-2012, 05:12 AM |
Post: #19
:[+]:
/sign
---
---