[Recruiting] The GUILD of ROOFERS. The new casual clan.
25-03-2012, 05:16 AM |
Post: #1
Zlotnik
Hello my friends. Some of you may remember me as Zlotnik the Roof Russian. For those who don't, I'm the forum Russian stereotype with a passion for roofs. I'm also the owner of a (semi-successful) server called Zlotnik's Roof Russia.

I'm here to announce the grand opening of the Guild of Roofers.
What is the Guild of Roofers?
The Guild of Roofers (GR for short) is a type of clan that I'm putting together. I chose, however, not to call it a clan, because unlike most clans, I plan to run the guild differently. So what makes GR different from other clans?
-No clan tags. No need for unnecessary showmanship or spending.
-No KDR/ELO requirements. These numbers mean very little now a days. Besidies, we are in it for the fun, not the false sense of accomplishment.
-No commitments. Can't make it to a guild event? I see no reason to insist.
-We are friendly, fair individuals. Perhaps not gentlemen, but certainly not angry 12 year olds.
-We promote fair play, and dislike pub bashing.
-We enjoy teamwork and voice chat, but do not make it mandatory
What do the Roofers do?
Although, GR isn't your average BFH clan, we still partake in some clan activities. Because certain things are universal. Here's some of the things the Roofers do:
-Clan Wars. As long as its in the spirit of fun.
-Events. Be they jeep races, widget wars, or anything else.
-We play together, but we never stack teams. We will switch teams for balance, if its best for a good game.
-All GR members also get VIP status on the Roof Russia server
How do I join?
To join the Guild of Roofers, you have to understand our method, and why we chose to do things the way we do them. For example, if you are obsessed with your K/D stat, you likely have nothing to do at GR anyways. That being said, we always welcome those who are just looking for a casual team-based experience.
If you want to join GR, simply drop us a post below. In the post, include some info about yourself, and also tell us why you want to join our Guild. Lastly, there is still one matter of initiation.
Every Roofer must get on the top of the cross in Victory Village
and post a picture of it here in the thread. The picture
must
contain the date of being taken as well as mention of the Roofers Guild in chat. I can not promise that every applicant will get in, but I will read and screen every application personally. All guild invitations will be sent via PM or outside sources (xfire or steam) by me personally.
EDIT: There's also a group for members
http://www.battlefieldheroes.com/en/groups/185208
---
25-03-2012, 05:18 AM |
Post: #2
Zlotnik
MEMBERS:
(

Roof Russia admins shown in red italics)
-
Zlotnik
-RustySituation
-JoaoBertazza1
-
Eldeeo
-3ahn
-
Jax-Dale
-ghorboon
-Prototy9e
-Charlie.Bucket
-chichiru
-=TorinX
-HardTrance
-
FracKture
-Shugon
-leocano
-vonshiezen
-DunhaWDPA
-GHOSTRACC00n
-mbmaster99
-TerribleTrioJoe
-MyThumbsHurt
-Knight33
-EleKtroChief711
-SilentRooster
-Crazeeman
-FancySniper
-Sgt.MatthewBaker
-DarfWaydar
-daniel.bfh
-CaptainShootALot
-Darth_Minnow
---
25-03-2012, 05:23 AM |
Post: #4
RustySituation
Information
I'm 14 years old, and I love going out with friends and doing some pranks. I'm usually into Coneing and Movin like bernie whether it's in public, or at school
. I enjoy basketball, and my team has been first in the nation before. I love biking, long boarding, jogging, and most importantly working out. Been playing BF:H for over 2 years, and I learned not to rage, as it just gives the player some more food, and makes us a delicious meal. That's pretty much it about me
(25-03-2012 05:22 AM)

Eldeeo Wrote:

Alright! did it as a Commando!

May I say, FIRST MANDO THAT DID IT
First gunner that did it
---
youtube.com/inhale0o0
25-03-2012, 05:29 AM |
Post: #6
JoaoBertazza1
THIS IS ME
Hello! I'm JoaoBertazza and this is my roof hero. I like to play with every class the game offers me, but my favorite class would be the commando. Playing with friends is really good, so is having fun here. I prefer infantry maps but I love the plane. I like to stay here in the forum sometimes and I love clans and groups. That's all.
Whoops... I would like to join simply because I think that would be an awesome group to be in!
Image 'edited' with the good ol' paint. I didn't know how to put a date, so anyways...
---
25-03-2012, 05:30 AM |
Post: #7
AfghansFTW
love how organised u are. I would love to join the clan, i like to have fun!. I am not obsessed with my K/D rthingy and sure i would love to be in this 'clan' can't say very much or i don't know what to say. I like NATs a bit more that royals my second account is jus031 and that is my Royals account. Ahh i am a teenager (will not post age) but i am one. I don't have Skype or those messaging things except for emails. I like the indoors. I will apply with other account too.
please accept me
25-03-2012, 05:34 AM |
Post: #9
jus031
i would like to join, don't know how to get on top of church , because i have TNT, lets think ?
I like the indoors, am a teenager and have said everything 2 posts above
25-03-2012, 05:43 AM |
Post: #10
3ahn
Ha ha so far nobody on the cross. I don't have anything to get there, but I will try post haste xD.
---
25-03-2012, 06:24 AM |
Post: #11
3ahn
I've tried for a bit now and this is the best I could do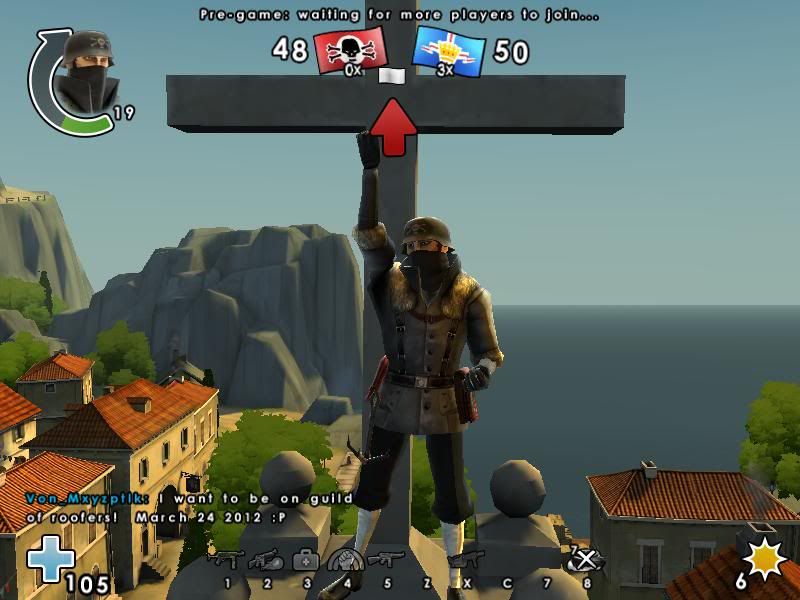 Maybe I can at least hang out with the GR guys
---
25-03-2012, 07:02 AM |
Post: #12
ghorboon
me and a mando
information
im 14
and i play bfh everyday since 2009
(I still dont have any level 30 hero
)
i like camping on roof, i dont care what people say or think about my camps
---
25-03-2012, 07:10 AM |
Post: #13
Zlotnik
Updated members list. Sometime soon I'll put together a way for us to use voice if we so choose.
---
25-03-2012, 07:18 AM |
Post: #14
Prototy9e
Time: 11:16 PM.
March 24, 2012
I'm a ** year old chinese kid that loves to hang out with friends. Sports I enjoy are basketball and football. (My team has a 2nd place plastic trophy! Jealous?)
---
25-03-2012, 07:53 AM |
Post: #17
JazzRage
Atlast mission accomplished!
Date: 25/3/2012
Uhmm i like to play with friends but most of my Real life friends are not much interested in gaming ....So I hope that i will have fun with you guys.
PS: I love your server
---
25-03-2012, 04:36 PM |
Post: #18
Zlotnik
Going to work. Will look over submissions when I get back
---
25-03-2012, 06:11 PM |
Post: #19
Mc4
a bit late...
http://www.battlefieldheroes.com/en/foru...?tid=98655
e: if you are trying to do it gunner is by far the easiest. i think xael may have made a tutorial about the easiest tt placement as well
after looking at some videos, it looks pretty easy with tnt too. good luck
25-03-2012, 07:03 PM |
Post: #20
chichiru
Teatime on the CrossÔÖą
After numerous attempts and deaths I was finally able to get on it.
---
---