24-11-2011, 06:38 PM |
Post: #81
7JonasKiller7
Bye Amazin Dave, thanks for all the work you put into this game, hope that StarFighter can fill this 'vacuum of power' youve left behind
---
24-11-2011, 06:47 PM |
Post: #82
Jungl3
Good bye AmazinDave , hope the personal reasons for leaving can be solved.
---
24-11-2011, 07:12 PM |
Post: #83
limitpower141
All right "StarFighter", send me technical plans about the details of the new update, in order to defeat the curiousness and save (insert doomed map)!

Seriously, show us what's coming up.
---
24-11-2011, 07:15 PM |
Post: #84
LordAlex22
Never seen such explosion of (rather good) updates since Dave, so goodbye and I loved ya :'(

And hopefully the new big baws will do the job just as good or maybe even better > : )
---
24-11-2011, 07:20 PM |
Post: #86
NavyPride
Good bye ol' chap.
---
24-11-2011, 07:25 PM |
Post: #87
Drew
Dave, thanks for being amazin', good luck in whatever endeavour you will be doing (not saying bye as you said you'll be sticking around
)
Starfighter, welcome and
(24-11-2011 04:37 PM)

Blackwyn Wrote: meta game?
<3
---
24-11-2011, 07:37 PM |
Post: #89
Drew
Starfighter
reference?
(Yes, I know I'm old for knowing that movie, 4 years younger then it though
)
---
24-11-2011, 07:40 PM |
Post: #90
Mochihiro
Goodbye AmazinDave thank you for bringing the game back on tracks, good luck.
Welcome StarFighter! Hope you bring us cool stuff!
---
24-11-2011, 07:44 PM |
Post: #92
AceEmerich
Well my old friend, good luck on your next projects, thanks for your efforts and for all attention what you give to us, sometimes come to forum to say hello.

Everytime we see somethings in game we will remember the good things what Amazing Dave did for us.


Welcome Starfighter, Good luck on your new job, its an honour have you on board.
---
The Justice from community hands -
http://www.bfh-cbl.org/index.php
My Channel :
http://www.youtube.com/channel/UCx27lnfNRyXeB7U5m-NdtjA
24-11-2011, 07:48 PM |
Post: #93
Virian
I like all BFH developers for being friendly to everyone of community. It's sad one of them leaves
Dave, will you keep your blue status on the forums? Or at least community mod?
---
24-11-2011, 08:24 PM |
Post: #94
VALDEMA1
Well cya Dave.. it was great having you here for the time.. you made this game get boat loads of content in the short time you were here.. hopefully that doesnt change and good luck with your life.
---
24-11-2011, 08:36 PM |
Post: #95
Scarth
GAHHHH
---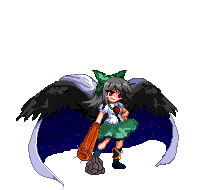 24-11-2011, 08:42 PM |
Post: #97
Wixxi
Dave, i will TRULY miss you. :o
You not only gave me the greatest gift i could possibly imagine (no not the Bronto head xD) but most importantly you made me like Heroes again.
I can never thank you enough for what you added to this game and it's community.
I hope you stick around and looking forward to playing/posting alongside you!
Also, cool story bro.
NAO GO RQ MOAR NUB!!!!
---
24-11-2011, 08:55 PM |
Post: #98
Adrenaline895
noooo!
Welcome Starfighter, you have high standards set before you
---
24-11-2011, 09:12 PM |
Post: #99
Max
Wow, that's sad >:
---