---
[Site] Gifting Items/Funds (1500+ signs) Now With Images! - MattyG - 20-02-2010 05:17 AM



Note: While Battlefunds are becoming Play4Free Funds on the 18th of January, 2012, I'm too lazy to change the text and the pictures to reflect the new currency. Sorry



With myself and plenty of others replacing our permanent weapons with super/uber versions, the older weapons are pretty much useless. Also, some people can't buy Battlefunds to get the weapons they need. My suggestion is to be able to trade weapons on to friends, as well as being able to gift BF to them.



Careful, this thread may be TL;DR for you.





1. Item Gifting



The player logs on the site, and goes into any of his friend's player profiles. Clicking a button, the player has the option to take a permanent item and send it over to any of the selected friend's eligible heroes.

To balance this out, put in some kind of 'tax'. Perhaps maybe 10-30% of what the item usually costed will charge for the person giving the item - we could even possibly let EA decide on the tax for each item, or in general. If the item is something like an Alpiner jacket, which is not a BF clothing item, it could just be 1.5k VP, a tiny amount of BF, or something similar.

Only mutual friends (you have them added and they have you added) should only be eligible trade, for (somewhat little) security purposes.



Example of how this would be done:



Prima logs on the site. He goes to Seconda's profile, and above his hero list, is a button he clicks called 'Give Item'. Prima selects one of his heroes, a Royal Soldier, and has a list of what permanent equipment he has - non-default weapons, clothes, and even his emotes.

He selects Harry's Hand Cannon. He is directed to a page where he selects who can have it. All of Seconda's Heroes who cannot use the weapon are greyed out, but his Royal Soldier and Commando can use this weapon.

Prima selects his friend's Commando, and is prompted at the bottom of the list that the trade will cost him 36 BF (25% of 145 BF, rounded to the nearest 1) and has to enter his PW in, similar to the process of buying stuff off the site. Prima confirms, and is sent a confirmation email for verification. He clicks the enclosed URL to accept, and then the pistol is off his Royal Soldier.

Seconda logs in and checks his notifications, to find out Prima sent him a pistol for his Commando. Happiness ensures.



An example of a notification, done by a supporter. Thanks techs181!





With the pilfered/stolen weapons out, any weapon sent to one of the opposite faction will have the prefix added/removed. IE - sending Harry's Hand Cannon from a Royal Commando to a National Soldier will turn it into Stolen Harry's Hand Cannon and vice versa.

Tax will be slightly higher per conversion to Pilfered/Stolen or the other way around.



A 'wishlist' could probably be made for other players to see what another one wants on their player (or hero) profiles.



Fixing a hole - if they player's hero already has that item for unlimited duration, they cannot trade it to them.





As of November the 2nd, 2010, I've made it so that a confirmation email is sent to the gift sender's email address to ensure that account thieves need the original owner's email access. This is to prevent them from cleansing hijacked accounts altogether.





2. Battlefunds Gifting



After selecting your payment option and amount of Battlefunds, you can select who this is for. If it's for you, or someone on your mutual friends list. When you buy the BF for a selected friend, it simply gets sent to their BFH account, while you paid for it and get the receipt. Should be self-explainitory.



This does not work by entering how much of the current BF you have that should be sent to somebody else, but instead the way we buy BF today, only with choosing who it's for being the only difference in the process. I'm making this bold since not a lot of people are getting the point.






This idea and the referral system



This topic has been around before the referral system, which now puts a few holes in this suggestion. Here's my fix to cover these holes up:

The idea of gifting BF makes it so it gets sent to your friend's account the instant you pay for it. Buying BF on a alternative referral account for item gifting is actually more expensive - there is additional tax to pay for, and the person doing so may as well buy BF's for their main account.

Also, we'll make it so reffed friends buying BF for other friends or for you will not give you your 700 bonus BF.

If somebody abused this to say, get weapons and shift them to their main account, bear in mind that a super weapon, with 25% tax, will cost them 700 BF for each one, therefore 2800 BF = 4 supers whilst you can get five without trading. The extra 700 BF they get from reffing in the first place would be demolished if there was either a higher tax rate for super/uber weapons, the tax rate for converting to pilfered/stolen was factored in, and/or the other player had to pay a portion of the tax, if not the full 10-30% again should EA decide to implement that in.


Scamming could really bugger someone over - but passing your details to someone else isn't even advised in the first place - even EA warns you regarding this.

If you support this, you can copy either one of these in your signature.



Text Variant:





Userbar Variant:




Code:


[url=www.tinyurl.com/giftbf][IMG]http://i179.photobucket.com/albums/w304/scarth23/SigBar1-1.png[/IMG][/url]

Becomes:

Thanks to
Scarth
for this userbar!
Another Userbar Variant:
Code:

[url=www.tinyurl.com/giftbf][IMG]http://i43.tinypic.com/seqdy1.jpg[/IMG][/url]
Becomes:
Thanks to
KaKan.
for this userbar!
---
Example - MattyG - 20-02-2010 05:19 AM

As the sign list is long defunct as it's difficult keeping up with 700+ signs, I will provide a step-by-step diagram of pictures of how gifting should work.

These are roughly done images - if you can make dramatically better images, as well as merge more steps into each other, your work will be appreciated and will also be credited for it.

MS PAINT AWAY!!111!1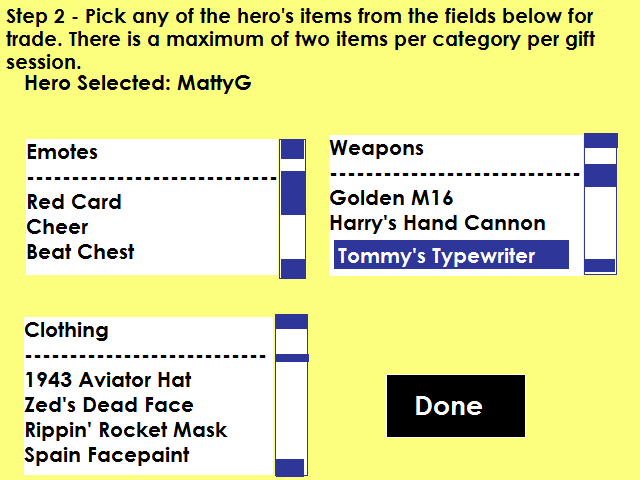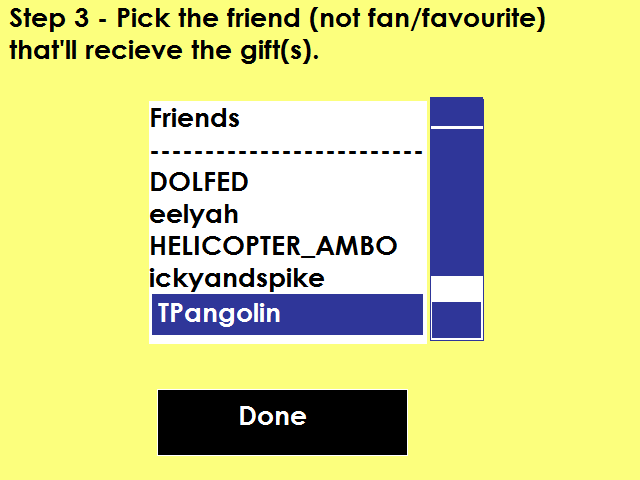 See what I mean? I need someone to make better images. PM me if you have improvements.



Mofium

has made an image regarding what would happen if both players paid tax in order to trade.

---
RE: [Site] Gifting Items/BF - JoaoBertazza1 - 20-02-2010 05:22 AM

Nice! But I don't think my friends would buy BF for me. They don't even buy for themselves
---
RE: [Site] Gifting Items/BF - Ezleet - 20-02-2010 05:26 AM

/sign

i would like to trade or get half BF on the unlimited weapons/clothing i bought.


---
RE: [Site] Gifting Items/BF - Spudinske - 20-02-2010 05:30 AM

i think we should be able to trade our stuff because of all the items/clothes out there


---
RE: [Site] Gifting Items/BF - Feroxa 08 - 20-02-2010 06:00 AM

I like this idea...



SIGN




---
RE: [Site] Gifting Items/BF - TPangolin - 20-02-2010 06:02 AM

/signed

Very nice idea, the tax rate is just brilliant


---
RE: [Site] Gifting Items/BF - Saguenite - 20-02-2010 06:21 AM

Of course, Sir!
sign


---
RE: [Site] Gifting Items/BF - Antiunit - 20-02-2010 06:35 AM

Not a 'tl;dr' suggestion to me


/signed


---
RE: [Site] Gifting Items/BF - Btech_United - 20-02-2010 06:36 AM

SIGNED


---
RE: [Site] Gifting Items/BF - MattyG - 20-02-2010 07:14 AM

Thanks for support so far everyone, although we will need like 200+ more


---
RE: [Site] Gifting Items/BF - CrazyFlyGuy - 20-02-2010 07:14 AM

/signed.

I'm sure i could pilfer some old normal weapons off friends
---
RE: [Site] Gifting Items/BF - IndianaSkywalker - 20-02-2010 03:31 PM

suggested before but /signed


---
RE: [Site] Gifting Items/BF - keuien - 20-02-2010 03:41 PM

/signed


---
RE: [Site] Gifting Items/BF - - 21-02-2010 12:32 AM

Bump for justice!


---
RE: [Site] Gifting Items/BF - Kumartheman - 21-02-2010 03:39 AM

/signed


---
RE: [Site] Gifting Items/BF - AlbinoVampire - 21-02-2010 03:52 AM

Search funtion is a good thing...

But its still a great idea.

Sign/


---
RE: [Site] Gifting Items/BF - pheared - 22-02-2010 06:20 AM

signed


---
RE: [Site] Gifting Items/BF - BananaPeel! - 25-02-2010 04:17 PM

/signed


---
RE: [Site] Gifting Items/BF - Na5k1 - 25-02-2010 04:29 PM

/signed.


i would allso like to be able to gift battlefunds that i allrdy have and set an amount of BF to send so i wouldn't have to buy i.e. 700 bf 4 some1 but to be able to buy like 1400 bf. spend some my self and if my friend needs some i could give him like 145 (for 1 normal weapon for example). Alsso trading stuff OR changing stuff for codes to give away would be nice


/signed again


+ I think they should send u a confirmation email about dong some changes so if some of your friends has gotten your PW somehow they couldn't take all your cool BF stuff and your BF's... and maybe a 1 day wait time possibly?

click "send" -> confirmation email -> (maybe 1 day wait time for another email where u have to press "confirm" again) -> your friend has the item.


---